A Reminder About Dating Customs In Thailand
Thailand has a very old, very What that means is that the ritual of relationships is much less casual than you may be used to — more formal and much more complex. Where you came from, the way you were raised, it's perfectly normal and acceptable for people to date casually — to have many boyfriends or girlfriends – even sexual partners – before settling down .Your culture doesn'tsee anything wrong with anyone, men or women, changing relationships as often as some people change their socks.
But it doesn't work that way in Thailand. See, in Thailand, it's normal, natural, and acceptable that men will date lots of women, and "good" women will have very little experience dating men. (Kind of makes you wonder exactly WHO the Thai men are dating, doesn't it!) If she's alone with a man…particularly  foreign man like you…people of her culture are likely to assume she's a loose woman of easy character (a "worn out" girl in her language). And that kind of reputation can't only damage her and her social standing, it can cause her family to "lose face," having raised such a disrespectful daughter.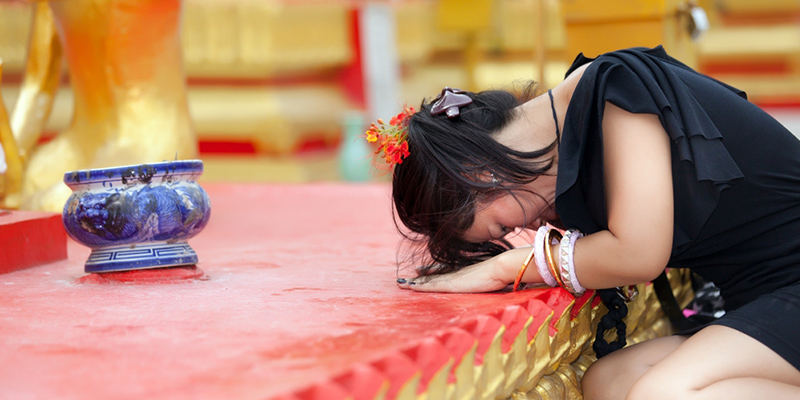 Typically, if you're going to date an honest, respectable Thai woman, you'll be introduced to her by someone she knows and trusts. If she's interested in you, it will usually be communicated to you through that trusted friend or relative, in a much more subtle way than you're used to.If she's interested in you, you'll probably spend weeks getting to know her in social settings, among people she likes and trusts.
You'll go out for meals, walks in the park, or informal gatherings of friends, in public places. Her gentle insistence on "dates" like this is designed to protect her reputation as a modest, respectable, well-brought-up lady. Far from being just an act, her modesty and shyness are real and deeply ingrained. No matter how attracted to her you are, no matter how attracted she is to you, no matter how much you seem to "click" together, her upbringing and culture will demand a slow, patient approach punctuated by layers and layers of subtlety.
Once she's comfortable with you, her group of "social buffers" will get smaller and smaller, and eventually, if you haven't embarrassed yourself (or god forbid embarrassed her!), you'll find yourself alone together. And even though you're finally alone together, she might still keep an element of modest "distance." She may be uncomfortable holding hands with you in public, let alone being kissed where others can see.
It's not uncommon for some women to even insist that their dates walk a few paces apart from them! You might feel she's playing you…being coy…stringing you along…but believe me, it's all driven by deep cultural programming for her to be seen as chaste and modest. You might think that her distance means she's not interested in you –and give up too soon! If you're patient and kind, and your relationship blossoms to the point where she introduces you to people who are important to her (like her parents or her family) you might be shocked to hear her refer to you as her "friend," thinking she is downplaying the seriousness of your relationship, or diminishing your role in her life.
Or worse, signalling that "kiss of death."
Our company, Meet Me Now Asia, will put you in touch with countless single and genuine Thai women who are looking for marriage and for a man who will join them in Thailand.  
We offer the option to meet pre-screened serious women who are looking for a real relationship, not to take your money. You can try our customized dating events where you can meet lovely, trustworthy Thai single.